Motorcycle License in 3 Steps
A Class 6 License is required to ride a motorcycle, or a scooter which is 51cc or bigger. You must first obtain a Learner's License from ICBC before you can start learning how to ride. Once you have a learner's license, ProRIDE can help take you the rest of the way.
Continue reading for more on getting your Learner's License.
---
Step 1: Complete the Knowledge Test
The first step to getting your motorcycle/scooter license is to stop by your local ICBC Driver Licensing office and take the Class 6 Knowledge Test. There is no appointment required, just drop in at your convenience.
You are permitted just 1 attempt every 7 days so it's a good idea to study the information first before taking the test, even if you are an experienced driver. There have been many changes over the years which you may not have learned when you last studied for a driving exam. ICBC's "Learn to Ride Smart" publication is free at the Driver Licensing Office, or you can view and study it online.
Once you pass the Knowledge Test, you'll be issued a BC Learner's License which permits you to ride motorcycles & scooters under the following conditions:
Learner's License Restrictions
You may ride only between the hours of Sunrise and Sunset
You may not carry any passengers
You may not exceed 60km/h
You must be accompanied by a qualified Supervisor who is > 19yo and holds a valid and current Class 6 license. A friend or family member can function as your supervisor at a ratio of 1:1.
Requirements
Applicants must be 16yo or older
Applicants must have another class of driver's license, OR:

Applicants who do not have another driver's license must also complete the Passenger Vehicle Knowledge Test (Class 7L) in order to apply for a Motorcycle Learner's License.
Did you know …
You do not need a Class 6 License to ride a scooter that is 50cc or smaller; your Class 5 Driver's License permits you to ride small-engine scooters, however training is still recommended.
Riding contrary to the restrictions shown on your learner's license would subject you to a fine of $109 and 3 demerit points;
Fines & Points can be multiplied by the number of restrictions you are violating at one time;
Riding contrary to the restrictions shown on your license may also void your autoplan insurance;
Riding without insurance may subject you to a fine of $598;
Riding with a supervisor does not waive the other restrictions on your learner's license.
---
Step 2: Ride the Skills Test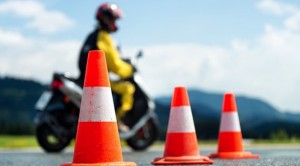 After learning how to ride a motorcycle or scooter, the next step to a Class 6 license is a Motorcycle or Scooter Skills Test. You'll be required to ride in a parking lot through a field of small orange cones; the objective is to ride each maneuver at an appropriate speed (mostly 9km/hr or slower) without putting your foot down or hitting any cones. This test takes about 10-15 minutes, and once you pass you will be eligible to have the Speed and Supervisor restrictions lifted from your learner's license. During peak season, ICBC is typically booking for this test 4+ weeks in advance.
Keep in mind:
ICBC will not administer this test before the "Earliest Test Date" printed on your learner's license.
Not all ICBC locations offer this test; the offices that do are generally open for testing weekdays during business hours, and you're required to make an appointment for testing.
If you ride to the test location you must be accompanied by a qualified supervisor.
ICBC may waive this step upon successful completion of an Certified Rider Training Program at a licensed facility such as ProRIDE.
---
Step 3: Challenge the Road Test
Finally, after some further practice on the roads and highways you may be ready to challenge the ICBC Class 6 Road Test. This test is conducted in traffic on city and side streets as well as highways, and takes about an hour. If you pass you earn yourself a Class 6 Motorcycle License! During peak season, ICBC is typically booking for this test 3+ months in advance.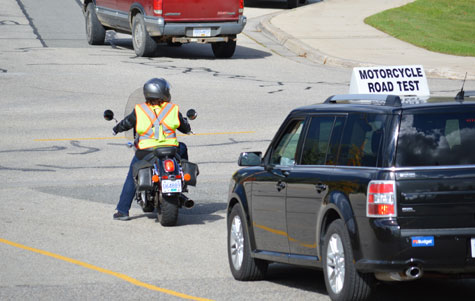 Licensing Conditions
Again ICBC will not administer a road test any sooner than the 2nd "Earliest Test Date" printed on your learner's license.
Completing the Class 6 Road Test will remove all remaining restrictions on your license, with the following exceptions:

Testing on a scooter will earn you a Scooter License, but you won't be licensed to ride motorcycles. However, testing on a motorcycle will also license you to ride scooters.
Testing on a Trike, Spyder or a bike with a sidecar will earn you a license for 3-wheeled vehicles, but you won't be licensed to ride any 2-wheeled vehicle.
Testing on a bike with a small-displacement engine (200cc or smaller) will earn you a permanent passenger restriction.
Testing on an electric motorcycle will earn you a clutch restriction.
Obtaining your BC Motorcycle License can be easier said than done. We encourage you to consider taking an ICBC-Certified Rider Safety Course to ensure you learn the necessary skills and strategies to not only pass the road test, but to help you keep riding safely for years to come.
---
How can we help?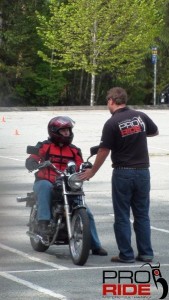 You must complete the 1st step on your own, but let ProRIDE Motorcycle Training help you with the last two steps! Click the green button to learn more about our Survival Rider Training Program for motorcycles and scooters!
Or check out our complete list of Programs & Courses to see how ProRIDE can help get you on the road to a BC Motorcycle/Scooter License!
---
Graduated Licensing Program (GLP)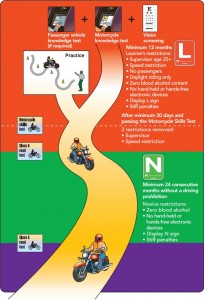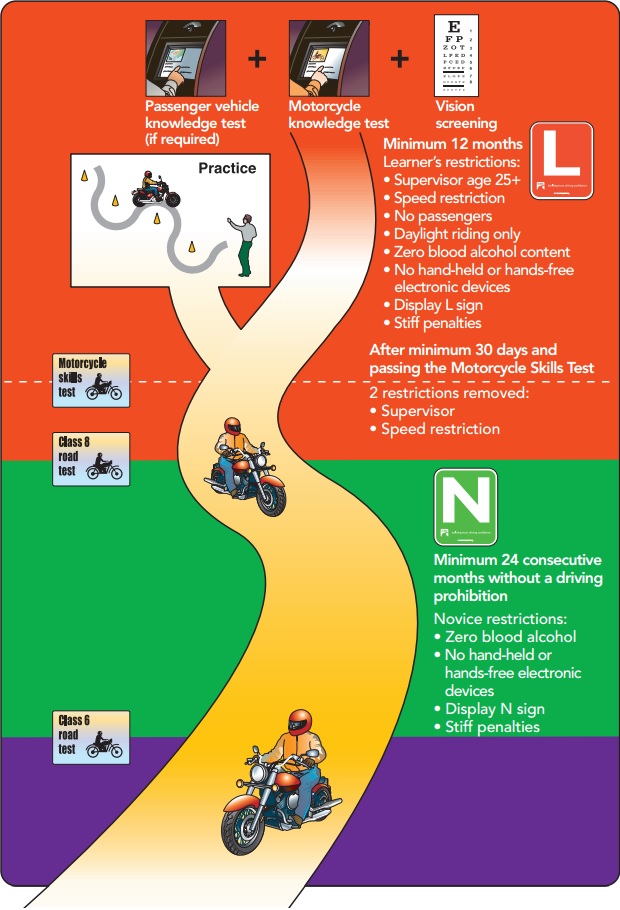 If you have a full Class 5 Driver's License then you will be eligible for a Class 6 or LDL Learner's License, and therefore this section would not apply to you.
If you have a Class 7L or 7N Driver's License then you are a GLP driver, meaning you have less than 3 years experience on the road, and so you will be eligible for a Class 8 Learner's License.
With GLP, new riders will be subject to some additional restrictions, just like with your class 7 driver's license. Most notably you won't be eligible to have the speed and supervisor restrictions lifted for a minimum of 1 month, and you'll need to display a red "L" tag while riding. Additionally GLP riders are tested twice on the road, once after 12 months for your "N", and a final time 24 months later for your full license, just like in your car. It can take up to 3 years to complete GLP.

The good news is that you're only required to do the N test once. When you pass your final Car Road Test and get your full Class 5 license, then you can skip the Motorcycle/Scooter N test and go straight to the final Class 6 Road Test.
Although ProRIDE Motorcycle Training is not a GLP-certified training facility, we welcome and invite GLP riders to come and learn with us. However we strongly encourage new drivers to take an approved GLP Driving course to ensure you get proper and thorough training. Successfully completing an approved GLP Driving Course can earn you some high school credits; additionally you may be eligible for the final road test 6 months in advance.
Click the yellow button for more information on GLP or to find a GLP-Certified Training Facility.
---