Do's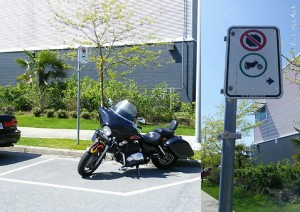 In Vancouver:

Motorcycles can park for free where indicated by city signage;
Motorcycles parked in designated metered spots pay a discounted meter rate;
Motorcycles parked in non-designated metered spots pay 50% using PaybyPhone (where available)
Motorcycles can share metered spots – as many as can fit within the lines.

Payment by coin at the meter covers all motorcycles parked therein
PaybyPhone covers one bike only.

Burnaby permits only 3 motorcycles to share a spot.
Don'ts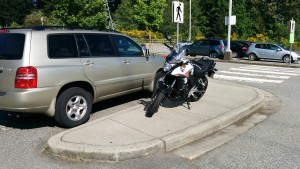 Unless otherwise signed, Vancouver By-Law (No. 2849) makes it illegal to stop or park:

 on a crosswalk AND
within 6 metres of either side of a crosswalk
on a sidewalk or sidewalk crossing
on a boulevard, traffic island or traffic circle
More Resources