---
Overview
This group ride, led by ProRIDE staff, expands on the skills learned in your Survival Rider Training Program, allowing you to continue developing your skill under the supervision of our experienced professionals.
One extra Traffic class is included with your Survival Rider Course; additional classes available on a pay-per-use basis. Use of a school bike is included, or BYO for our daytime traffic classes and pay just $39+gst to join!
Students will build on skills learned in the Survival Rider Training Course, including:
Route planning options
Lane dominance and positioning
Solo and group riding
Highway riding (entering, exiting and riding at speed)
Urban and rural riding
Cornering and curves
Confidence riding in traffic
To that end, ProRIDE offers 3 different levels of Traffic Classes:

---
Traffic 1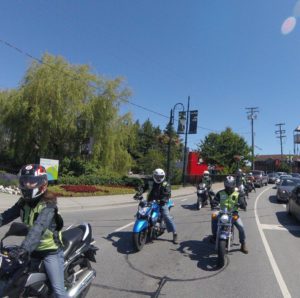 This is the equivalent of the Monday class from your Survival Rider Course. This ride is a gradual and progressive introduction to riding in Traffic. After a short warm-up in the parking lot to brush up on your bike skills, our staff will lead the class into side streets where students can practice riding through residential areas, school zones, and playground zones, as well as riding into and out of dead-ends and cul-de-sacs. By the end of the class, students will find themselves riding through local multi-lane traffic, finishing off at Capilano University. A coffee stop is planned along the way so come prepared!
Traffic 1 Classes are scheduled "On-Demand"; if you'd like to attend a Traffic 1 Class, but do not see one in the schedule, please Contact Us and let us know.
---
Traffic 2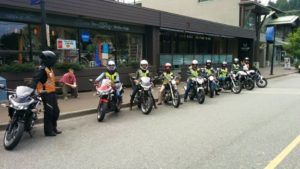 This class picks up where you left off at the end of the Traffic 1 Class. Following a brief warm-up in the parking lot, the class will be brought right out into multi-lane traffic, heading westbound. Common stops include Park Royal Mall as well as Horseshoe Bay or Caulfeild Village. After a brief coffee break, the class will head back to Capilano University on Highway 1, riding at speeds of up to 95km/h along the way.
It is strongly recommended to ride ~100km after completing Traffic 1 and before attending Traffic 2.
---
Traffic 3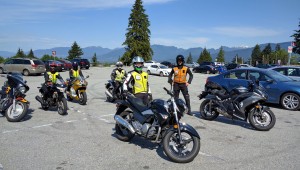 Previously known as the "Summer Road Tour", this class is offered between May and Labour day and serves as the ultimate traffic challenge in our program. After a brief warm-up in the parking lot, students will be brought out onto the highway right from the get-go, as the class exits the North Shore and makes it's way along the Second Narrows Crossing to the Lower Mainland. Common stops include Kushiro Park on Burnaby Mountain, as well as Ioco Road to Belcarra Park in Port Moody. On the return trip, students will find themselves riding back along the Barnett Highway.
---
How to Register
One additional traffic class is included with every Survival Rider Training Course.
Additional Traffic Classes may be booked on a pay-per-use.
Please note:
Students attending Traffic 2 or 3 Classes must have Restriction 11 removed from their Learner's License.
Classes are progressive and must be completed sequentially.
We will endeavour to complete the classes on time, however traffic conditions may cause a delay of our return.
$69+gst – Includes use of a school bike
The blue button also gets you your free extra traffic class.
---
$39+gst – BYO Bike
** For Daytime Rides Only
---
Summer 2019 Promo
Rent a bike on a Saturday and join that day's Traffic Class for FREE (space permitting)!!
Deal valid for Summer 2019!
---
Register: Traffic Class
Including use of a school bike for the class.
Make sure to Sign In to your ProRIDE user account to ensure you are viewing the correct pricing.
---