MSA Retest
License Expiry
There is often some confusion as to when your Learner's License expires. It's not 1 year from when you took the course, or 1 year from when you passed the parking lot test; your Learner's License expires 1 year from when you completed the computer test at the ICBC Licensing Office.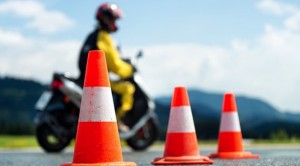 ---
Learner's License Re-issuance
Unfortunately a Learner's License cannot be renewed or extended; if your Learner's License expires before passing the Road Test, then you'll need to start the process again from the beginning and re-do every test you've done up to this point.
Knowledge Retest
Your Learner's License can be re-issued as early as 2 weeks before it expires. Just go down to the ICBC Driver Licensing Office and re-do the Knowledge Test. Once you pass, you will be reissued a Motorcycle License with Full Restrictions. Make sure to re-study the book – if you fail the Knowledge Test than you'll have No license. ICBC now permits just 1 attempt every 7 days.
UPDATE – Starting April 27th, ICBC will begin taking appointments for Knowledge tests. Call ICBC's Driver Licensing Info Line and leave a voicemail; one of their agents will call you back to book your appointment.
Parking Lot Retest
Next you'll need to re-ride the Parking Lot Test to have the Speed & Supervisor restrictions lifted.
Motorcycle Skills Tests can be done for free at ICBC through the public system. Alternatively Survival Rider Graduates can book an MSA retest at ProRIDE for up to 6 years from your original course (and sometimes longer).
During a ProRIDE MSA Retest, graduates are given time to practice each test maneuver on your own, as well as with an instructor. You can bring your own bike or borrow ours.
When you're done practicing you can roll up and ride the MSA. Upon passing you'll be issued another document which you can take to ICBC to have your Speed & Supervisor restrictions lifted.
MSA Retests are $39+gst. Click the blue button to book an MSA Retest:
---
Conditions
We are permitted to re-test our Survival Rider Graduates only, provided your original course records are still in our possession. We are required to retain all school records for a minimum of 6 years, but in some cases we have retained records older than 6 years.
Our software changed in 2016; students from 2015 or earlier will need follow the link below to create a new user account and request access to Graduate Support Services:
www.proride.ca/gss
Return here after your access has been restored and complete your booking for an MSA Retest.
After passing your MSA retest, don't forget to Book your ICBC Road Test through ProRIDE! If you do not pass your road test before your new license expires then we will be seeing you next year at the same time for another MSA Retest.
---
Register: MSA Retest
With the potential for a 2nd wave outbreak of CoViD-19, our registration calendar will only accept appointments up to 1 month in advance; if the session you are trying to book is more than 1 month away, it will automatically open up once it is within 1 month away.
---