Starting at $99+gst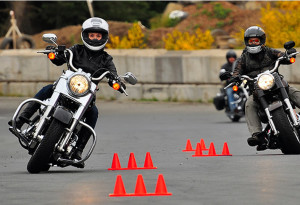 Upgrade your Slow-Speed Motorcycle Skills
Practice Makes Permanent
Brush up on old skills, and maybe learn a few new ones, including:
Obstacle Avoidance
Tight Turns & U-turns
Emergency Stopping
Proper Use of Head & Eyes
Relationship between Clutch, Throttle & Rear Brake
WHO:
This class is aimed at any rider who is experienced, currently riding, and interested in continuing to develop their skill.
Please note: This is not intended as a Refresher Course.  If you have not ridden in any significant amount of time then this is not the right course for you.  Rusty Riders are encouraged to look into our Survival Rider & Refresher courses.
WHERE:
WHEN:
Coming Summer 2018;

Next class May 19th, 10am to 2pm
Click the Register button below to view more dates
PREREQUISITES:
This course is aimed at riders who are experienced and currently riding;
Riders must have a valid Motorcycle License which is current and in good standing;

Minimum Class 6L / 8L with supervisor/speed restrictions removed (must have passed MSA/MST); 
Full Class 6 Licence recommended;

Must BYO Bike;

Bike must be registered/insured, and be street legal and road-safe;
Fuel not included;
Disclaimer: There's a chance you might drop your bike in this class.  ProRide is not responsible to damages to your bike arising from your participation in this class.
TUITION & REGISTRATION:
Tuition for Non-Grads/General Public – $149+gst
Tuition for Survival Rider Graduates – $99+gst
Pre-Registration Required
Space is limited; reserve your spot before it's full!
---
---
---