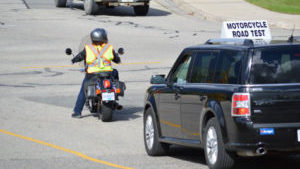 Road Tests
---
2019 Road Testing
Registration is now open for 2019 Road Testing and Pre-Test Sessions!
---
Book your Road Test
ICBC will only test you if the following conditions are met:
You must submit your ProRIDE MSA paperwork In Person for processing at an ICBC Licensing Office and have your speed and supervisor restrictions lifted;
Remember that they will only accept this document until 90 days after it was issued (the day of your parking lot test);
You must book your Road Test for a date which falls On or After the "Earliest Road Test Date" printed on your Learner's License.
ICBC will send you home without testing if you show up for a road test and one or more of the above conditions are not satisfied.  Please be diligent and thorough. Also, make certain to read our article on 
How to Pass the ICBC Motorcycle Road Test
, as well as review the Road Test Cheat Sheet (found in the back of your Pro
RIDE
 textbook) to ensure you are prepared to challenge this test.
If you have your own bike, you have the option of booking your road test directly with ICBC. Here are the Pros and Cons:
You are not limited to testing at ICBC Burnaby; other testing centres across Metro Vancouver as well as across BC may have earlier test times available, and we encourage you to explore these options if you are looking to test as soon as possible;
ProRIDE test-day services are not included with this option; sorry, no exceptions.
Please note: ICBC will not permit you to make more than one booking; you may book through ProRIDE or through ICBC, but not both.
Book your road test through ProRIDE to take advantage of our Test-Day services at ICBC Burnaby, including use of a school bike, as well as our staff on-site on test day to support you before and after the test.
Whether you test with us or own your own, we can help you prepare!  Every Survival Rider Graduate gets a credit for a Pre-Test Simulator Session included with your course tuition, no extra charge.  Additional credits may be purchased on a pay-per-use basis. Book as many as you like, but make sure to book at least one close to the day of your Road Test.
---
Frequently Asked Questions
Road Test FAQ
---