2017 Road Testing
Registration is now open for 2017 Road testing.
Before booking your Road Test & Simulator, make certain to read our article on How to Pass the ICBC Motorcycle Road Test, as well as review your classroom notes to ensure you are prepared to challenge this test.
Please note:
ICBC will only test you if the following conditions are met:
You must submit your ProRide course paperwork In Person for processing at an ICBC Licensing Office and have your speed and supervisor restrictions lifted.
You must book your Road Test for a date which falls On or After the "Earliest Road Test Date" printed on your Learner's License.
ICBC will send you home without testing if you show up for a road test and one or more of the above conditions are not satisfied.  Please be diligent and thorough.
---
How to book your Road Test
ProRide graduates may book their road test here by following the steps below:
All students – Follow the steps below to book your Road Test:

Click the button to book an ICBC Road Test:


Students from 2015 or earlier only:

We've upgraded our system.  Before you can book a road test, you'll need to click the link below to add yourself into our new system and restore your access to Road Testing and other Graduate Support Services:
www.proride.ca/gss
---
Frequently Asked Questions
---
When can I do my Road Test?
ICBC provides ProRide with dedicated road test times each year for our students, starting in the springtime and concluding usually in November.  You'll be given the opportunity to book a road test through ProRide once you've completed your Survival Rider Training Course.  Oftentimes students are able to secure a test date through our system as much as a month earlier than booking a test through the public system.
That said, after completing the Survival Rider course, we encourage students to ride 1000kms or more before challenging the ICBC Road Test, as you are more likely to pass on the 1st attempt with significant road time under your seat.
Please Note: The licensing process can take several months.  ICBC requires that you complete your road test before the Expiry Date printed on your learner's license; please monitor this date closely.  Students with time constraints are encouraged to discuss your needs with ProRide administration at your earliest opportunity.
---
Where can I do my Road Test?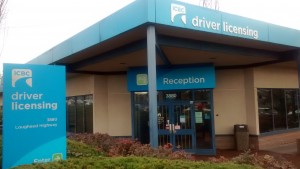 ProRide's preferred testing schedule is provided by ICBC at the Lougheed Highway location in Burnaby.  All Test Day services provided by ProRide are at this location only.
ICBC Lougheed
3880 Lougheed Highway
Burnaby BC
V5C 6N4
604-661-2255
M-F 8am-5pm
---
Which bikes will we be riding?
We bring a couple of 250cc bikes to the test.  You may ride either of these two bikes, or bring your own.
---
What if it rains?
ICBC will conduct your road test "Rain-or-Shine".  Many students cancel their test in the rain, but keep in mind the following:
ICBC charges a fee of $25 for cancellations taken within 48 hours of the appointment time
If you cancel your test it may be several months again before you can book another one.
It's a good idea to practice riding in the rain before test day to make sure that you are prepared to meet this challenge if it rains on test day.
ProRide provides Rain Gear for those rainy test days, or bring your own.
---
The date I want is unavailable; can you put me on the wait list?
There's always a chance for a last minute cancellation, however we do not keep a wait list.  In fairness to all students, cancellations are published on our website and social media channels and filled on a 1st-come-1st-served basis.
If you have your own bike then you have the option of rolling in to ICBC and checking-in on Standby.  If there is a last-minute cancellation or no-show then they offer the spot to anyone checked-in on standby.  It's definitely a gamble, as you could be waiting all day for a cancellation that may never come.  Your best bet for this is on a rainy day.
---
What happens if I have to cancel or miss my test?
You may cancel your test on up to 48-hours notice without penalty.
ICBC charges a $25 fee for late cancellations or no-shows.
---
Is my Road Test paid for with my tuition?
Your ICBC Road Test is *not* paid for with your course tuition. ICBC charges a Road Test Fee to provide road test services, and this fee is not covered in your course tuition. We do not pay ICBC on your behalf. Please come prepared to on test day to submit your Road Test Fee to ICBC, in addition to any fines, tolls, or tickets.
---
When does Road Testing begin in 2017?
Road testing usually begins in the Springtime, and we typically hear from ICBC after the New Year regarding the upcoming Road Test Schedule.  As soon as we hear from ICBC, we will post the testing schedule and students can begin booking road tests at that time.
Unfortunately we are unable to accept pre-bookings, or keep a waitlist.
---