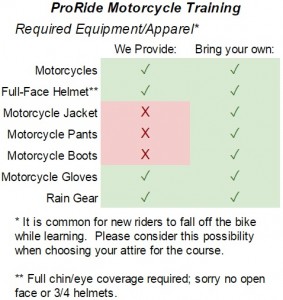 ---
For apparel and safety gear check out our Partners:
Or these other fine retailers:
Or any motorcycle dealership
So you've got a motorcycle that's been sitting your garage for a few months, or perhaps for a few years. Perhaps your bike's been parked for the winter, or you used to ride some years ago and are looking to get back on the saddle! ProRide's Survival Rider Refresher Course is your first step.
Over time, rules and laws change, road and traffic conditions change, and as a whole motorcyclists over the years have learned from their mistakes and gotten better. This Group Refresher Class is a full Certification or Recertification program which will help to reacquaint you with your riding skills, as well as update you on the latest information and Survival Riding strategies.
After a couple of days in the classroom updating your knowledge, you'll spend two days in the Training Lot riding on school motorcycles.  The final day is spent riding in traffic on your own bike (or use a school bike, no extra charge).
Successful Candidates will earn an updated Certificate of Completion which may qualify you for some insurance discounts.  Click for more info on Motorcycle Insurance in BC:




As lifelong learners we strongly encourage riders of all skill levels to continue learning, and to challenge yourself each day to be a better rider. Despite your experience if you have never taken an ICBC-approved Motorcycle Safety course then we encourage you to do so as soon as possible.
Is this the right course for me?
Start by asking and answering the following questions:
Do you already have a Class 6 License?
Has it been longer than 2 years since you last rode regularly?
Have you been "not riding" longer than you've been riding?
If you answered yes to any of these questions …
Then this course is right for you.
Group training includes:

2x Classroom Theory Sessions: 8 hours;
2x Closed Circuit Practical Training Sessions: 12 hours;

ICBC-approved course time = 20 hours
PLUS 1x Traffic Session: 3 Hours;
Total course time = 23 hours

Also Included:

Motorcycle Skills Assessment – Ensures you are riding to the most current provincial standard;
Use of a school bike – Included for all course time and testing;

Click the FAQ button below for more info on Course Scheduling and Availibility.


Refresher Course Tuition:


With Full Motorcycle License: $789+gst
Also included at NO EXTRA CHARGE:
Total Time: 30 hrs
---
Frequently Asked Questions
How can I register?
Self-serve registration is available 24/7 using your smartphone or computer.  Our convenient online calendar is updated in real-time; Click the Register link below to view up-to-the-minute class availability.
---
Where are your courses held?
ProRide operates out of Capilano University in North Vancouver.  Click the button below for more information on this beautiful facility, as well as directions and a map.

---
When is the next available course?
Classes are conducted between February and October each year. Each course runs 6 consecutive days, beginning on Thursday and concluding the following Tuesday. A new course begins each week on Thursday. Click the "Register" button above to access our online scheduling system and view the next available course.
---
What is the course schedule?
Classes run on three different schedules depending on the time of year:

During peak season we run two classes per week. At registration you will be given the option of choosing Day Class or Night Class. Note that Day Class and Night Class share the classroom time on the first two days.
While we strive to finish our classes on time, unpredictable traffic conditions which may delay our return times are unfortunately beyond our control.
---
The date I want is unavailable; can you put me on the wait list?
There's always a chance for a last minute cancellation, however we do not keep a wait list.  In fairness to all students, whenever possible anyone with an existing registration is notified first of any sudden openings, and given an opportunity to move up.
---
What happens if I have to cancel or miss a class?
You may cancel your course on up to two-weeks notice and receive a full refund.
Late Cancellations and Missed Classes are addressed in our School Policies.
---
I don't have the right gear; can I still take the course?
Our classroom presentation will feature a thorough discussion about safety gear, including an opportunity for Q&A.  Some students may elect to defer any large purchases until after this presentation, and that's perfectly fine with us.
Until you purchase your long-term safety gear & apparel, you can wear a short-term solution.  A sturdy jacket that zips up, along with a pair of long pants and some hiking boots with high socks may be sufficient for now, but keep in mind that these items provide minimal protection in the event of a fall.  If you have a pair of elbow and knee pads it wouldn't hurt to bring them along.
A Full-Face Helmet with chin protection is required for the course.  Bring your own or borrow ours.
Click here to view Apparel Requirements >>
---
Which bikes will we be riding?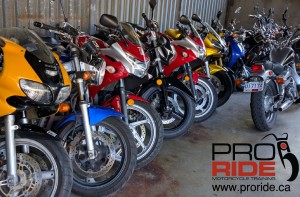 We have a diverse array of bikes in our fleet, including scooters, cruisers, sport bikes, standard and dual sport motorcycles from heavyweight brands such as Honda, Yamaha, Suzuki, and Harley-Davidson.  Our fleet ranges in size and power, including bikes in the 111-400cc class, as well as the 401-750cc class.  Our lowest bike seats at just 26 inches, so even the most petite of riders can touch the ground with their feet flat while stopped or reversing.  The bikes are constantly rotating as we are buying and selling bikes frequently.
Each ProRide bike has been upgraded with the student's safety in mind, including one or more of the following on each bike:
Sliders, Engine Guards, and/or Hand Guards
LED lighting for visibility in daylight, nighttime, and rainy conditions
After-market horn for a stronger street-presence
The diversity of our fleet is one of the strengths of our school, and each student in our course has the opportunity to ride as many different motorcycles as possible.  Not only will this will help to ensure you get the most thorough education possible, but also you'll be better prepared to make an informed decision when it comes time to purchase your 1st bike.

https://www.facebook.com/media/set/?set=a.10153633239026504.1073741886.11325821503&type=1&l=7a788c7f3d
---
What if it rains?
ProRide classes run rain or shine. Quite frankly, learning to ride in the rain makes you a better rider. Few riders plan to ride in the rain, but since we live in "Raincouver", getting caught in the rain is not a question of "if", but rather a question of "when". Learning to ride in the rain will help you prepare to face this challenge when it comes.
On the rainy days we open a couple of 10-ft canopies, generously provided by our friends at Trev Deeley Harley-Davidson,  so you can dry off in-between each exercise.  We also provide Stormtech Rain Gear, or bring your own.  Just the same we recommend you bring a towel and a change of clothes for the drive home,  just in case.
---