March to October
Known as the Skills Test, the Parking Lot Test, the Cone Test, the MST, or the MSA, this is the 1st practical test in the licensing process. Riding a motorcycle at slow speed can be much more difficult than riding fast, so ICBC wants to see this first. The MST consists of a number of small orange traffic cones which mark a series of manoeuvres that you are required to ride in sequence, without putting your feet down or hitting any cones. Each sequence must be ridden twice, and ICBC doesn't let you practice in advance, nor can you restart any manoeuvre if you make a mistake.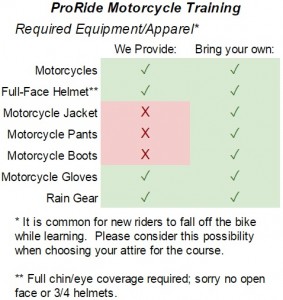 ---
For apparel and safety gear check out our Partners:
Or these other fine retailers:
Or any motorcycle dealership
Successful candidates will get the Speed and Supervisor restrictions lifted from their learners license. If you have already had some significant practice time with a qualified supervisor, then all you need is the information necessary to pass this test. Students in this group class will hear first how the MST is laid out, how it is marked, how each manoeuvre is expected to be ridden, as well as common mistakes and strategies for passing. After a demonstration of each manoeuvre, students will then be given the opportunity to practice each individual manoeuvre, until they are ready to try the full sequence.  Group classes run March to October for approximately 2 hours on Sundays.
Students may use a school motorcycle, or bring your own bike; make sure you are accompanied by a qualified supervisor if you ride your bike to the training location.  Keep in mind that a noisy exhaust may be disruptive to other students and lessons; we may ask you to practice on a school bike if your exhaust is too loud. After the class, you'll know how to be prepared for the actual test with ICBC.
Important
This class is tailored for an experienced rider who has had recent & significant practice time with a qualified supervisor.  You must present your Learner's License on the 1st day of the class.
This class is not intended as a "refresher" class.  If you have not been on a bike in the last 2 years we strongly encourage you to check out our Survival Rider Program.
Students taking this class will learn how to pass the MST.  Emphasis will be placed on testing requirements, but it is expected that NO NEW SKILLS WILL BE TAUGHT.  Successful candidates may be allowed to ride by themselves in traffic.
This class does not cover the critical survival skills necessary for riding in various traffic conditions.  We strongly encourage all student riders to seek out thorough instruction by a certified instructor before riding by themselves in traffic.
---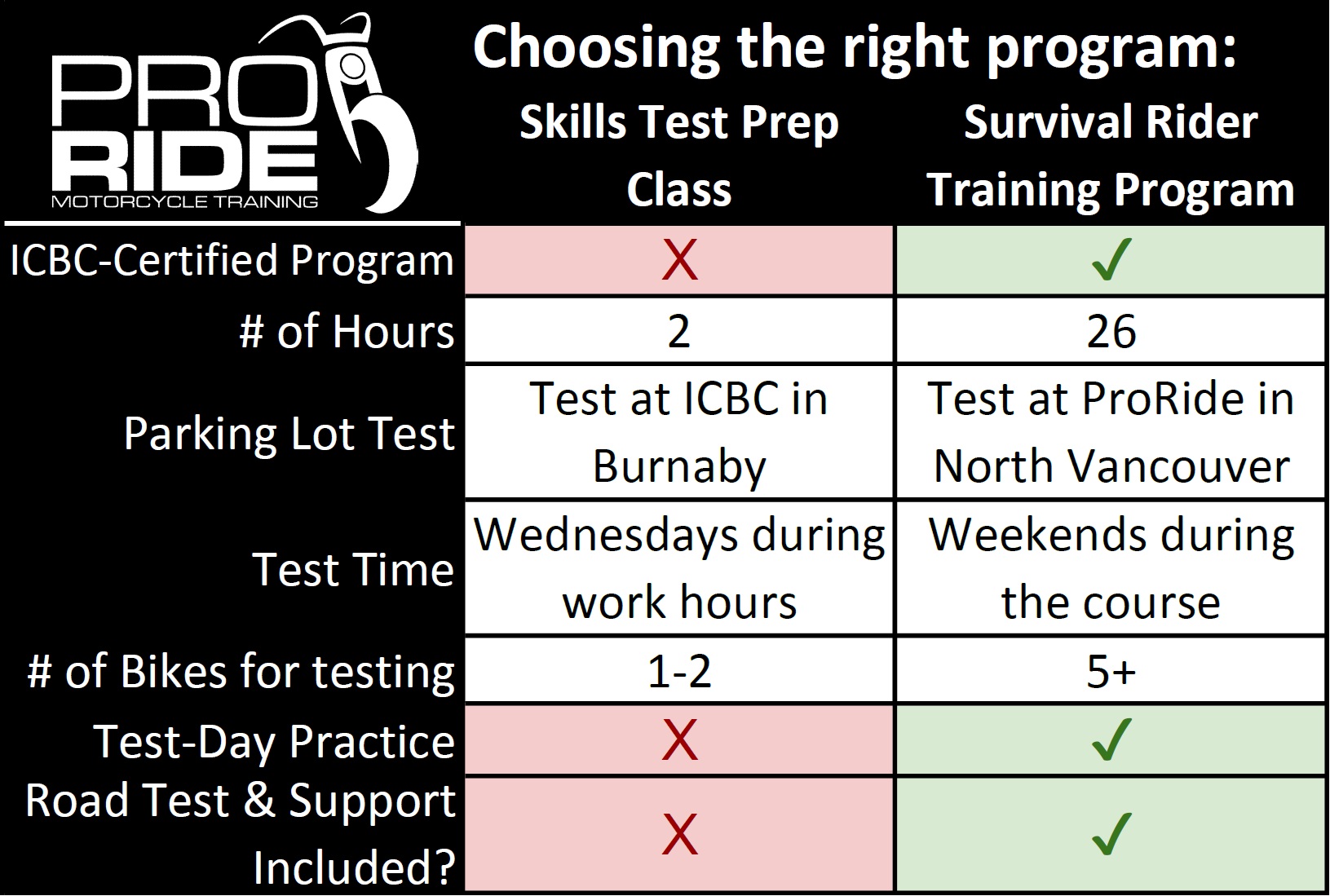 Find out more about our ICBC-Accredited Survival Rider Program here >>
---
Test Package +$80
Adding this package to your Skills Test Prep Course gives you access to ProRide's Test-Day services at ICBC Lougheed in Burnaby.  We'll book the test on your behalf and then meet you there with a school motorcycle.  You'll also have our test-day support on-site before and after the test.
Please note:
Tests are typically booked Wednesdays as space permits.  Prep class would then be scheduled for the preceding Sunday.
The testing area at ICBC Burnaby is slightly shorter and narrower than the regulation size due to their unique geography.  No "leeway" is given for this while marking applicants on this test.
We will provide a 250cc bike for your test, however we are unable to promise any specific bike.
Riders who complete our ICBC-Certified Survival Rider Training Program may be exempted from riding the MST at ICBC.
---
Did you know …
Each bike is measured at the beginning of every test, and the cones adjusted according to the turning radius of the bike.  This ensures that each bike has the appropriate amount of space within the cones.  Because of this, NO bike is too big for the cones.
---
Tuition:
Skills Test Prep Class
w/ Test Package – $239+gst

Closed Circuit Practical Training – 2 hours
Includes use of school motorcycle for class time as well as actual ICBC test, or BYO;
We book your ICBC Motorcycle Skills Test at ICBC Lougheed in Burnaby;
Test-day support from a ProRide Instructor included.

Skills Test Prep Class – $159+gst
(Arrange your own test)

Closed Circuit Practical Training – 2 hours
Includes use of school motorcycle for class time only, or BYO;
Book your own ICBC Motorcycle Skills Test;
Bring your own bike to ICBC; don't forget you'll need a qualified supervisor to accompany you to the test if you plan to ride there.
---
---
---