For experienced riders who have not graduated from ProRIDE, but have previously held a Motorcycle License.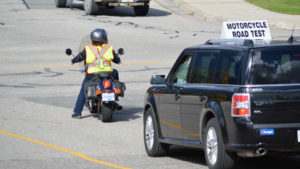 ---
Students in this course will learn how to pass the ICBC Motorcycle Road Test. You'll start by attending one Friday night classroom session to learn about the ICBC testing requirements. Afterwards you'll get access to our preferred road test scheduling, available only through ProRIDE! After booking your test, you'll be given an opportunity to book two Pre-Test Simulators. Consider this a rehearsal before the final exam; we'll outfit you with a radio and follow you around in traffic just as they do on the actual ICBC road test. Don't worry — it's not real and it won't count, but we'll let you know how you're riding and what adjustments you can make for the real road test!
For the Simulator you'll have access to a school motorcycle if needed, or BYO. We'll also meet you at ICBC for your actual road test to provide you with the same bike again, if needed, as well as give you test-day support on-site before and after your test.
---
Important
This course is tailored for experienced riders who have previously held a Motorcycle License, or who have experience which is significant, relevant and recent.
Candidates must have already completed the 1st and 2nd stages of Motorcycle Licensing. You must present your Learner's License on each day of the course.
ICBC's "Learn to Ride Smart" manual is required reading for this course. Students are encouraged to complete this reading before the 1st class; you may obtain a printed copy free at any ICBC Driver Licensing Office, or read and study it online.
Students taking this course will learn how to pass the ICBC Motorcycle Road Test. Emphasis will be placed on testing requirements, but it is expected that NO NEW SKILLS WILL BE TAUGHT. Successful candidates may qualify for a BC Motorcycle License.
Road Test Prep Course includes:

1x Classroom Session – 4 hours;
2x Group Road Training Sessions – 2 hours;

Also Included:

1x Road Test Booking at ICBC Burnaby through ProRide's private testing schedule;
Use of school motorcycle if needed (or BYO);
Test day support from a ProRide Instructor at ICBC Burnaby – 1 hour

Total Time = 7 Hours
Tuition: $349+gst
Road Tests and Test-Day Services provided at ICBC Burnaby only. More Info >>
---