Certified Instructors – It goes without saying that all of our instructors are accomplished riders, with hundreds of thousands of kilometers under our collective belts. But it takes more than being a good rider to be a good teacher. ProRIDE Instructors are trained to teach. Our certified instructors all meet or exceed provincial requirements and we continue to improve our riding and teaching skills on an ongoing basis.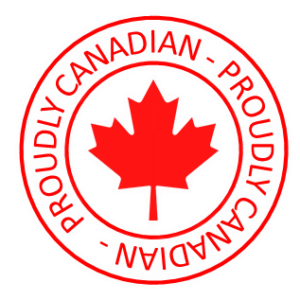 United We Stand – Rarely will you see a ProRIDE Instructor working alone. That's because we recognize that each instructor brings something unique to the table, and working together is how we're going to help you become the best rider you can possibly be. Whether your goal is to tour, cruise, commute or race, our Team Approach gives you the opportunity to take the best of what each of us is teaching, ensuring you get the most thorough education possible.
---
Meet our Team
---
https://www.facebook.com/media/set/?set=a.10152655573931504&type=1&l=98ad7cb555
---
Matt Grannis
Senior Instructor & Assessment Officer
With 19 years of teaching experience under his belt, Matt believes the key to being a Survival Rider is having a strong fundamental skill set on the motorcycle, combined with an ability to predict traffic based on common commuter psychology. "Skill sets should be drilled in the lot training, and practiced regularly. I enjoy working with classes to push them into improving these skills." He also believes these skills should be maintained. "It's important these students understand this is just the first step in a lifetime of finding ways to improve."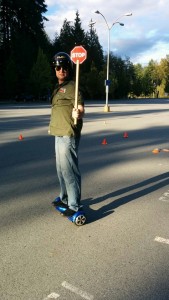 Currently riding: Aprilia Shiver
Favorite road trip: Taking a group to horseshoe bay
When he is not teaching he can be found hiking, windsurfing, or enjoying fitness classes. He is also a movie aficionado. "One liners are a great way to connect with fellow fans of the same movies."
---
Brian Antonio
School Director, Assessment Officer
You'll hear Brian riding before you see him coming, because he's usually rocking out loud and proud to an 80's soundtrack. A proud family man, when Brian's not trying to keep up with his toddler he loves spending time on the bike! In addition to road tripping, Brian is always looking for excuses to ride through cone drills in empty parking lots!
Brian brings to ProRIDE roughly ~23 years of experience as a teacher in a variety of fields; in addition to teaching motorcycle safety, Brian is certified as a Climbing Gym Instructor under the ACMG. Brian is also an accomplished Ballroom & Latin Dance Instructor, having earned many dance competition accolades as well as teaching credentials through the CDTA and the WPDTA.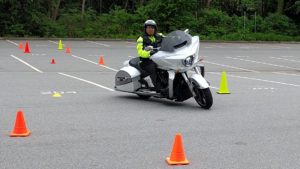 ---
John Buddo
Lead Instructor & Assessment Officer
John is a year-round on and off-road rider, always looking for adventure! In the summer you can find him exploring BC, riding mountain trails and logging roads. In the winter, John is often seen riding down the California Coast Highway in search of sun and water and new friends to ride with.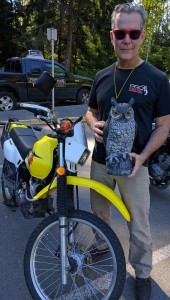 Hobbies:
Geocaching
Hiking
Obstacle racing
Camping
Fishing
John bought his first bike when he was 16, a Harley Davidson Sprint 350 street/trail. Since then he has owned a variety of sport bikes and cruisers, but still favors all purpose bikes that allow him to switch back and forth from the pavement to the dirt.
When not on his bike, John likes to hike, travel and compete in obstacle mud races such as the Whistler Tough Mudder and the SoCal Spartan Sprint.
---
Otto To
Licensed Instructor & Assessment Officer
As a year round rider, Otto easily rides 12,000 kms per year in Metro Vancouver alone! Don't think he's easy to spot though – Otto is a motorcycle chameleon, riding solo and in groups, and on many different bikes throughout the year!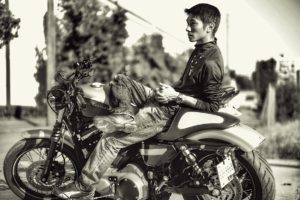 Currently Riding:
Harley-Davidson Sportster XL1200N
Yamaha FZ-07
Born in Hong Kong and raised in Vancouver, Otto is fluent in English, Cantonese and Mandarin.
---
Marcel Hanslo
Licensed Instructor
Marcel is an individual motivated by excellence. By day he is a Financial Literacy and Corporate Banking Professional. After hours he is a Survival Riding Ninja Master with years of safe riding experience!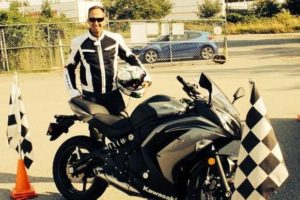 Outgoing & compassionate, Marcel's patience and effective communication cater to all skill levels.
---
Len Chong
Licensed Instructor
Having ridden for more than twenty years, it goes without saying that Len is passionate about motorcycles – the delicate balance between aesthetic, flowing beauty and disc-prolapsing, unyielding power.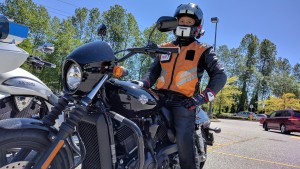 "One's motorcycle is an extension of one's body," perhaps likened to having an extra arm to yoga with, a third foot to football with, or a third eye to see the future with. It's a connection between the human soul and our very earth, without which Len would be the mere shell of a human.
As an instructor, he desires to impart this passion on his students, emphasizing safety and sound descision making at all points in the learning and riding process. Building this foundation is so important in creating Survival Riders, and along with experience, the best way to become a lifelong Survival Rider.
---
Claus Bauer
Certified Instructor
Claus is a family man with an accomplished list of career paths. An entrepreneur at heart, Claus started his first company at the age of 22, and has since founded 3 NGO charitable programs spanning 3 continents. His philanthropic efforts have seen much exposure over the years in print as well as on television.
Claus has been riding motorcycles since the age of 12, and has since ridden all over the world on just about every kind of motorcycle ever invented, including dirt bikes, sports bikes, cruisers, quads and even a tuktuk. Claus has recently completed the renowned Capilano University MOPA program studying Documentary Film in 2018 and is now turning his attention to sharing his motorcycling knowledge with ProRIDE students!
---
Joel Cajapin
Certified Instructor
Having a mechanical background, Joel sees motorcycles as not just a vehicle, but as as a mechanical expression of it's rider that evolves with every bike they own.
As an Instructor, Joel loves to share his passion for riding with others; being able to expand his knowledge of riding while teaching the skills students need to become confident on bikes gives him a great feeling of accomplishment.
---
Cael Hopwood
Certified Instructor
An avid long distance solo and group rider, Cael's passion for motorcycling has covered many years.
There were few female front riders during the early years and Cael is excited to see the numbers increasing at such an incredible rate.
The drive to help others embrace their riding passion in a safe and exciting way has led Cael to join the ProRIDE team.
---
Support Staff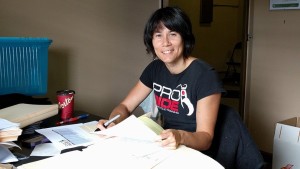 ---
Tech Team
ProRIDE employs our own in-house team of licensed mechanics and apprentices to help repair and maintain our fleet before, during, and after every class!
Meet our tech team below!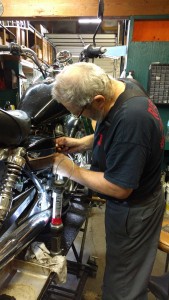 ---
Interested in joining our team?
We are constantly on the lookout for new instructors and mechanics/apprentices! If you love working with people and are professional and courteous, then please Contact Us to find out more about joining the ProRIDE team!
Instructor Candidates
Must have an unrestricted BC Class 6 Motorcycle License that is current and in good standing;
License must be valid for a minimum of 3 years (5 years preferred);
Must have a clean driving abstract;
Mechanic / Apprentice
Must be certified Red Seal (or equivalent), or be working towards the Red Seal under the ITA;
Must have an unrestricted BC Class 6 Motorcycle License that is current and in good standing;
Clean driving abstract preferred;
---