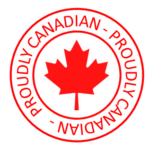 Certified Instructors – It goes without saying that all of our instructors are accomplished riders, with hundreds of thousands of kilometers under our collective belts.  But it takes more than being a good rider to be a good teacher.  ProRide Instructors are trained to teach.  Our certified instructors all meet or exceed provincial requirements and we continue to improve our riding and teaching skills on an ongoing basis.
United We Stand – Rarely will you see a ProRide Instructor working alone. That's because we recognize that each instructor brings something unique to the table, and working together is how we're going to help you become the best rider you can possibly be. Whether your goal is to tour, cruise, commute or race, our Team Approach gives you the opportunity to take the best of what each of us is teaching, ensuring you get the most thorough education possible.
Meet our team below:
---
Matt Grannis
Senior Instructor & Assessment Officer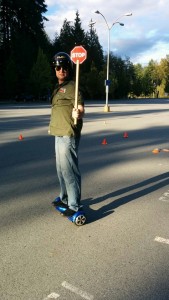 With 16 years of teaching experience under his belt, Matt believes the key to being a Survival Rider is having a strong fundamental skill set on the motorcycle, combined with an ability to predict traffic based on common commuter psychology.  "Skill sets should be drilled in the lot training, and practiced regularly.  I enjoy working with classes to push them into improving these skills."  He also believes these skills should be maintained. "It's important these students understand this is just the first step in a lifetime of finding ways to improve."
When he is not teaching he can be found hiking, windsurfing, or enjoying fitness classes.  He is also a movie aficionado.  "One liners are a great way to connect with fellow fans of the same movies."
Currently riding:  Aprilia Shiver
Favorite road trip:  Taking a group to horseshoe bay
-= Top =-
---
Brian Antonio
School Director, Lead Instructor, Assessment Officer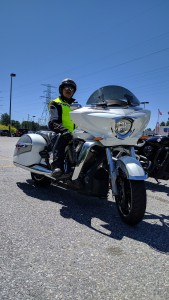 You'll hear Brian riding before you see him coming, because he's usually rocking out loud and proud to an 80's soundtrack.  An avid and seasoned rider, Brian enjoys an active lifestyle and harbours a fierce passion for the great outdoors; cycling, rollerblading, running, hiking, snowshoeing, camping, rock climbing and of course motorcycle road trips keep him busy throughout the year.
Brian brings with him more than 20 years of experience as a teacher in a variety of fields; in addition to teaching motorcycle safety, Brian is certified as a Climbing Gym Instructor under the ACMG. Brian is also an accomplished Ballroom & Latin Dance Instructor, having earned many dance competition accolades as well as teaching certifications through the CDTA and the WPDTA.
Favourite rides: Hungry Herbie Run, Birch Bay, Mt. Baker, Winthrop
-= Top =-
---
Otto To
Licensed Instructor & Assessment Officer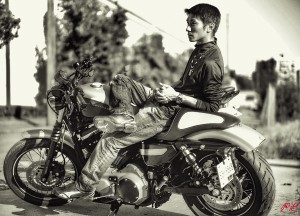 As a year round rider, Otto easily rides 12,000 kms per year in Metro Vancouver alone!  Don't think he's easy to spot though – Otto is a motorcycle chameleon, riding solo and in groups, and on many different bikes throughout the year!
Born in Hong Kong and raised in Vancouver, Otto is fluent in English, Cantonese and Mandarin.
Currently riding:
Harley-Davidson Sportster XL1200N
Yamaha FZ-07
-= Top =-
---
John Buddo
Licensed Instructor & Assessment Officer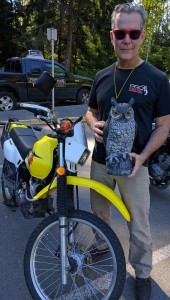 John is a year-round on and off-road rider, always looking for adventure! In the summer you can find him exploring BC, riding mountain trails and logging roads. In the winter, John is often seen riding down the California Coast Highway in search of sun and water and new friends to ride with.
John bought his first bike when he was 16, a Harley Davidson Sprint 350 street/trail. Since then he has owned a variety of sport bikes and cruisers, but still favors all purpose bikes that allow him to switch back and forth from the pavement to the dirt.
When not on his bike, John likes to hike, travel and compete in obstacle mud races such as the Whistler Tough Mudder and the SoCal Spartan Sprint.
Hobbies:
Geocaching
Hiking
Obstacle racing
Camping
Fishing
-= Top =-
---
Marcel Hanslo
Licensed Instructor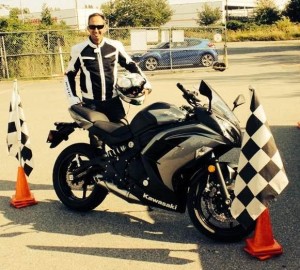 Marcel is an individual motivated by excellence.  By day he is a Financial Literacy and Corporate Banking Professional.  After hours he is a Survival Riding Ninja Master with years of safe riding experience!
Outgoing & compassionate, Marcel's patience and effective communication cater to all skill levels.
-= Top =-
---
Patrick Tong
Licensed Instructor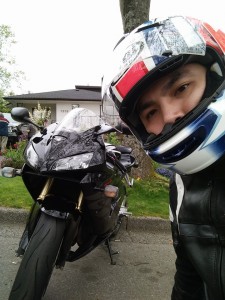 A Banking Professional by day, Patrick has always had a passion for two wheels; in his off time you can find him exploring the West Coast on his Honda CBR600RR or on his Cannondale CAAD8 bicycle.  Patrick hopes one day to watch the Isle of Man TT live and in person, the most prestigious motorcycle race in the world, and the ultimate test for competitors and machines alike!
-= Top =-
---
Len Chong
Instructor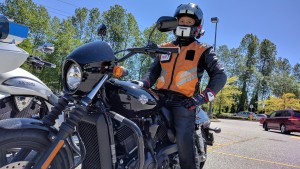 Len is a graduate of Northwest Motorcycle School's Law Enforcement Motorcycle Riding program.
---
Interested in teaching?
We are constantly on the lookout for new instructors! If you love working with people, are professional and courteous, have held a Class 6 Motorcycle License for a minimum of 3 years (5 years preferred),  and have a clean driving abstract, then please Contact Us to find out more about becoming a ProRide instructor!
-= Top =-
---
Support Staff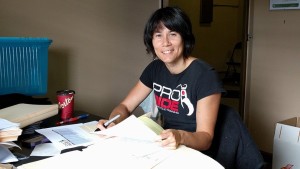 Aiko
Administration
-= Top =-
---
Tech Team
ProRide employs our own in-house team of licensed mechanics and apprentices to help repair and maintain our fleet before, during, and after every class!
Meet our tech team below!
Anton
Red Seal Certified:
Heavy Duty Mechanical Repair
Industrial Mechanic Millwright
Simon
Red Seal Certified:
Motorcycle Repair
Automotive Mechanical Repair
Heavy Duty Mechanical Repair
Former Licensed Vehicle Inspector
-= Top =-
---